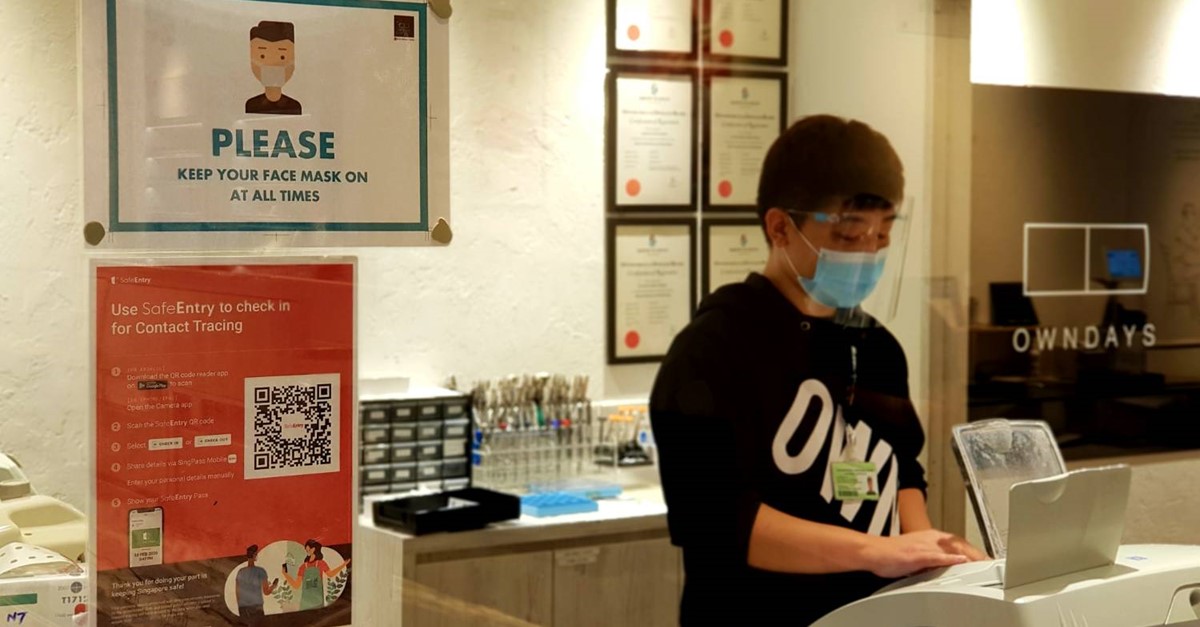 Retail stores in Singapore have put in place safety management measures to stem the spread of COVID-19.
2020 has been a unique year for businesses worldwide. Businesses have had to adjust their operations to adapt to the ongoing COVID-19 pandemic. In some cases, stores have implemented safety measures overnight to ensure their shoppers' safety and well being. In this article, we spoke to our tenants Eighteen Chefs (Eastpoint Mall outlet), OWNDAYS Singapore, as well as RE&S which operates Ichiban Boshi, Ichiban Sushi, Idaten Udon and Kuriya Japanese market in our malls, on how they are navigating their stores through COVID-19. 

How did your business operations change through the different phases of COVID-19?

Eighteen Chefs (Eastpoint Mall outlet): When the government upped their risk assessment from DORSCON Yellow to DORSCON Orange, we started to feel the impact from the decrease in number of dine-in customers. As more people stayed away from crowded places and opted to have their meals delivered, we stepped up our marketing efforts across third party food delivery applications. This has accelerated our digital transformation journey. We launched our island-wide delivery service during this period which allows us to reach out to customers outside our vicinity via third party food delivery applications.

On top of that, we also offered attractive promotions and combo sets to take-away customers during the circuit breaker period.

As dining in was not allowed before Phase 2, our dishwashing staff were made redundant and we took this opportunity to allow them to upskill and assist with the packing and checking of customers' take-away and food delivery orders in the front of house instead.

OWNDAYS: During the circuit breaker and Phase 1, we shortened our operating hours and restructured working arrangements at our outlets. Staff at each outlet were divided into two teams and each team would report for duty on alternate days to reduce contact between the staff. Monthly shop manager meetings and staff trainings were also moved online and conducted via video conferencing which we are continuing in Phase 2. 

We are also actively exploring ways to further implement technology in the business. For instance, our headquarters in Japan developed an in-house remote eye check system that allows customers to have their eyesight tested without coming into contact with the staff and has been rolled out in selected stores in Japan.  

RE&S: It almost felt like a rollercoaster ride as we experienced the different phases of COVID-19. All our business functions had to swiftly adapt to the industry changes and government policies by the day. 

Besides food, customers typically visit our restaurants for the service and atmosphere, and overnight, we had to provide the same value and service through takeaway and delivery. Our product development team worked on improvising existing products and creating new products that are suited for the new norm. We had to ensure that our food carries the same value as when customers dine-in, and that our 'good service' is felt through the consistency in the quality of food and accuracy in orders, taking into account extended variables such as a third party delivery partner.

No single department is left unaffected by the changes through the different phases. This is the period when intense teamwork and cross-departmental collaboration is critical.

Besides mask wearing, increased cleaning frequency and implementation of SafeEntry, what are some additional steps you have taken to ensure the safety of shoppers?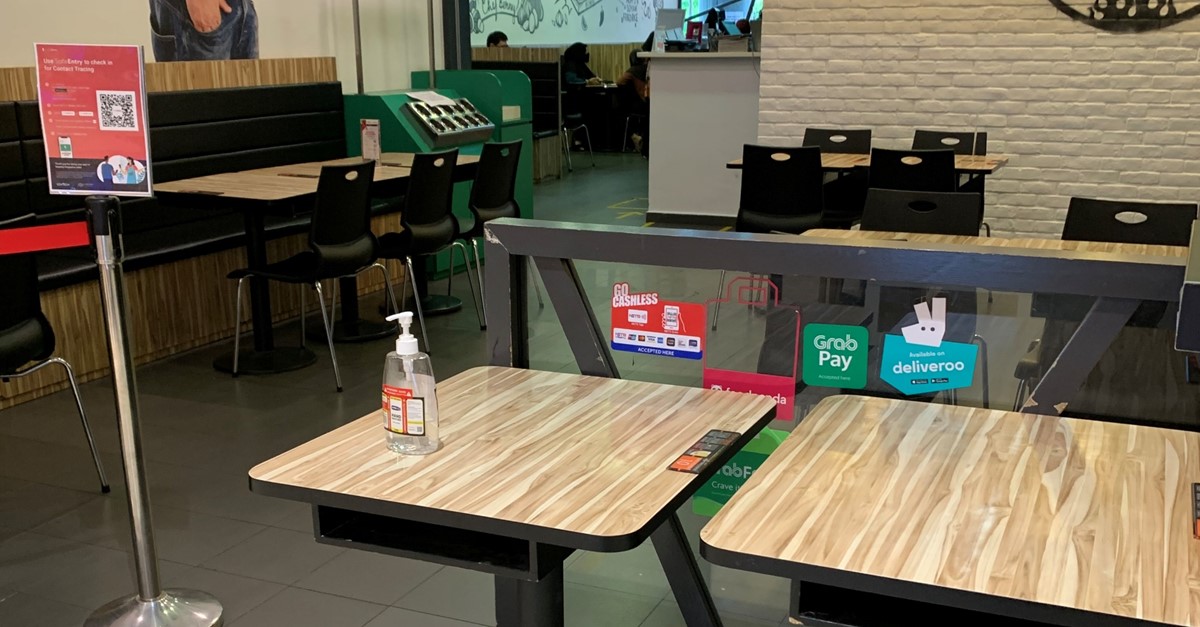 SafeEntry QR code and hand sanitizers are readily available at the entrance of Eighteen Chefs outlets.
Eighteen Chefs (Eastpoint Mall outlet): We used to provide cutlery and condiments at our self-serve station but have since changed to bringing these items to customers' tables to minimise movement and contact points within the restaurant. Hand sanitizers are also provided at the entry point and at the cashier counter.

We got onboard on Frasers Makan Master and enabled the dine-in feature which allows customers to place their order via their mobile phone at their table rather than manually writing their orders. Frasers Makan Master also allows customers to pay through the app rather than the cashier counter. This minimises the number of contact points in the restaurant.

OWNDAYS: We cordoned off parts of our shopfront to allow us to monitor and control the crowd level in store, and actively ensure that there is always at least a 1-metre spacing between customers. All staff are also required to have their temperatures taken every 2 hours. In addition to face masks, our opticians and optometrists will put on a face shield during eye checks. All eye examination equipment will be disinfected before and after serving each customer. We also clean and disinfect the spectacles before handing them over to the customers for testing or trying.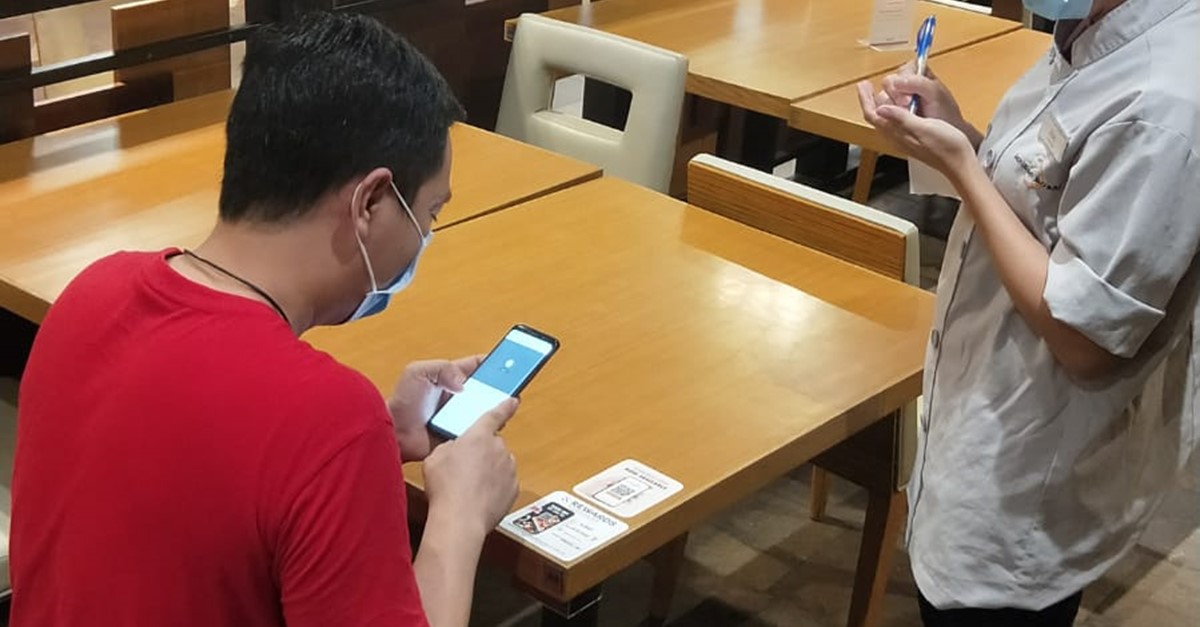 A shopper at Ichiban Boshi scans the QR code located on the table to browse the digital menu.
RE&S: Apart from paying extra attention to food hygiene and safety, we have made our menu available for mobile browsing to reduce contact points at our restaurants. Our operational managers also closely monitor the health and mental wellbeing of all our staff to ensure that they are well and healthy. 

How do you keep the morale of your team high during this period?

Eighteen Chefs (Eastpoint Mall outlet): We encouraged our team to provide continuous feedback on how we can improve our operations, especially when it comes to complying with the various governmental measures guidelines. We also seek their input for in-store promotions.

In addition, we adopted a more flexible manpower schedule to allow working mothers to care for their young children when the childcare centres were closed during the circuit breaker period.

OWNDAYS: The key drivers to keeping morale of our staff high are passion, engagement, and trust. Our staff have always been passionate about their role as eyewear professionals. Despite the uncertainties in the COVID-19 situation, they have remained highly committed at work.

Secondly, the management has maintained constant and open communication with staff. Changes to the standard operating procedures during this period are relayed to the staff and explained in detail to ensure they understand the rationale for such changes before they were implemented. 

Finally, the management continues to remain available throughout this period. Staff are welcome to reach out to them to discuss any concerns that they may have whether it is related to work, health, or other personal issues. This engagement provides assurance to the staff during these challenging times and keeps them highly motivated.  

RE&S: Ever since the start of Circuit Breaker, we have taken this opportunity to provide relevant training courses to help our staff upgrade their skills. We see this as a way of reassuring them that they are crucial members of our company and that they will not be jobless due to the current situation. 

During the period when dine-in was not allowed, we ensured that our operations team leads allowed ground staff to clear their annual leave, if they wish, to rest and recharge as some have not been able to take long breaks due to festive periods since December 2019.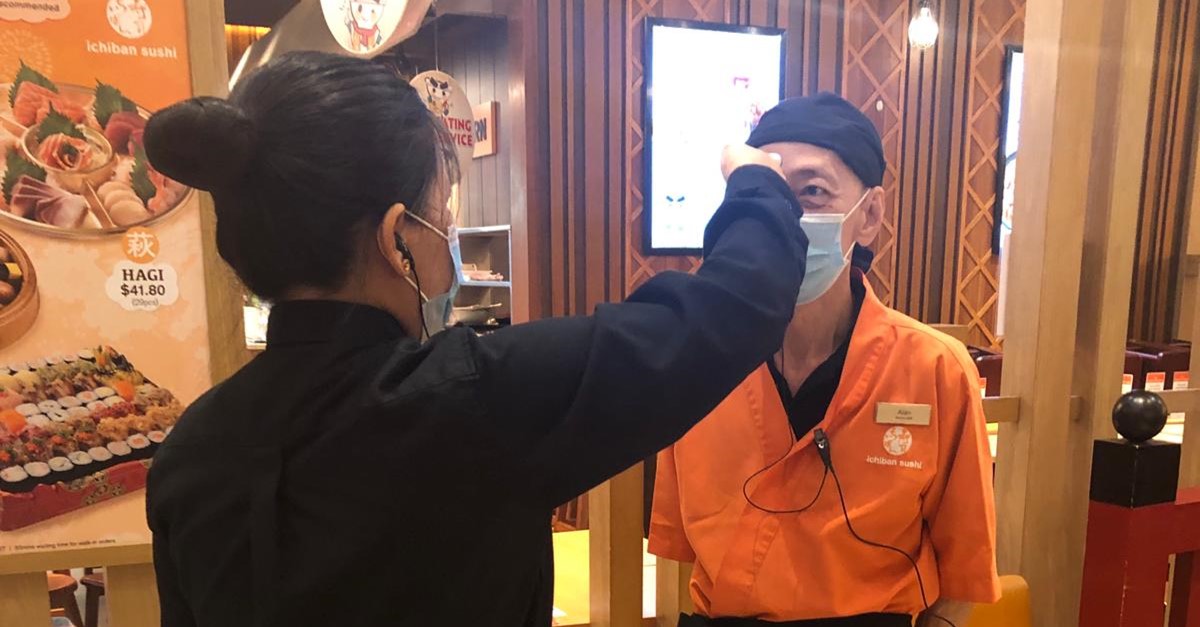 Ichiban Sushi conducts daily temperature screening for their staff. 
What are some things your business is grateful for during this period?

Eighteen Chefs (Eastpoint Mall outlet): It has been a tough and challenging period for us. We would not have been able to pull through without the various support and assistance from the government and landlord. This situation is far from over and we do hope to work closely with them through this period of new normal.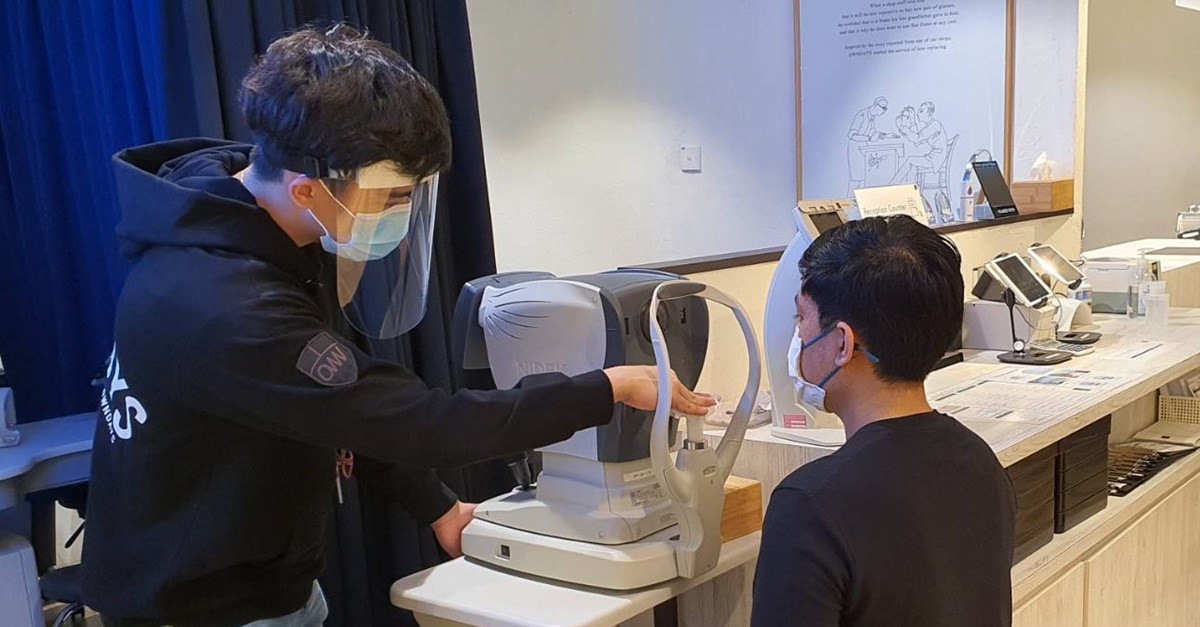 Staff at OWNDAYS remain passionate in serving customers through COVID-19.
OWNDAYS: It has been an extraordinary period with huge challenges for everyone and we are grateful to our staff for their unwavering dedication at work; our customers for their continued support and entrusting us with their eyewear needs; and our business partners, especially the landlords and mall managements for creating a safe environment for both our staff and customers as well as offering various marketing initiatives and other support throughout circuit breaker and beyond.

RE&S: While business has slowed down, it has allowed us the time to test out new ideas from creating new products to taking a more proactive approach in digitalising our processes such as e-commerce. Such milestones have been in our pipeline but are now expedited due to COVID-19. This is good because we were temporarily being 'freed up' from the day-to-day operations and can concentrate on planning for the next milestone. 

For most companies, business has picked up since the beginning of Phase 2 as Singapore starts to re-open. Our tenants continue to innovate and bring new experiences to shoppers in this period of the new normal. For more information on the latest promotions, visit www.FrasersExperience.com.