1. Share with us how Muchachos came about
To be honest, opening my own Mexican restaurant was not something I had planned on doing with my life. Up until that point in life, I had prepared and worked towards becoming a lawyer. But when the global financial crisis took place in 2010, I had to turn down the opportunity at a law school, as the uncertainty of being a lawyer was too high. I held my first job in the public relations industry before deciding to leave the corporate world, and do something for myself. This led me to the idea of pursuing my passion project - selling burritos.
2. Why burritos?
Having spent most of my childhood in Singapore and California, I realised that it was terribly difficult to find a good burrito here. Back in 2013, this was a struggle, and I suppose we were quite lucky in being one of the few restaurants to bring this American-style burrito to Singapore.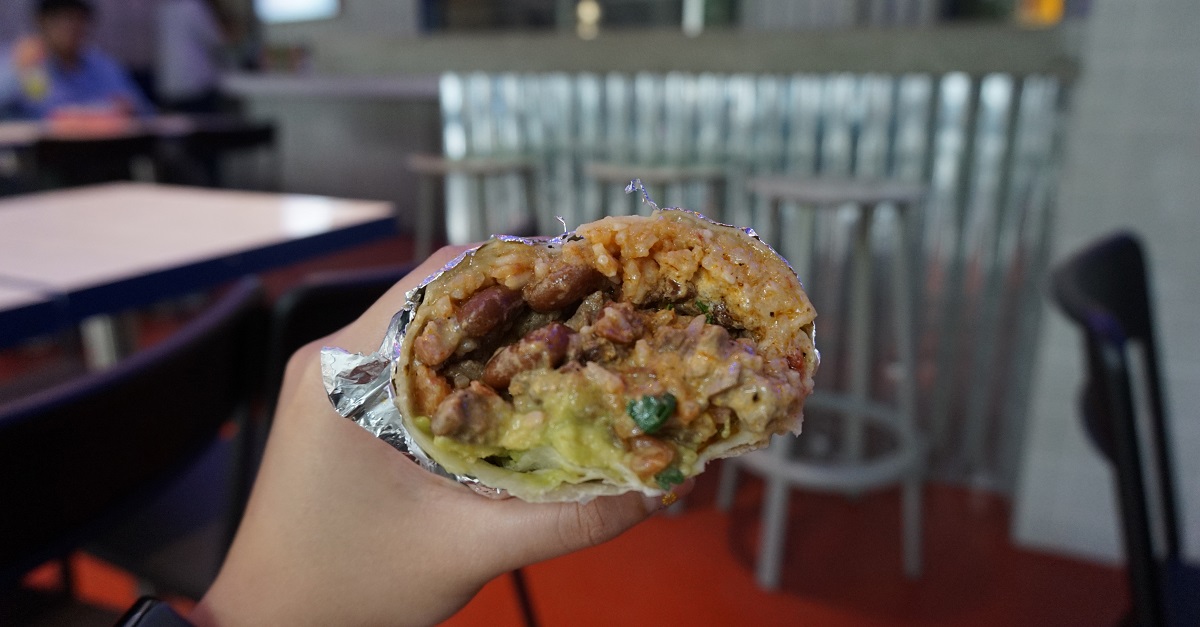 The Carne Asada (beef burrito) is generously filled with tender beef, cheese, tomatoes, and beans
It started with the classic burrito, but we have expanded the range of offerings to include other mainstays such as burrito bowls, salad bowls, quesadillas, buffalo wings and tortilla chips. We also have Mexican beers and sodas to complete the full dining experience.
3. Do you have any advice for aspiring entrepreneurs out there?
As cliché as it sounds, Muchachos started out as a passion project, and that drove me to do everything I could to sustain the business. When we first started, our main goal was simply to not end up bankrupt.
I would tell all budding entrepreneurs out there, to never consider giving up if there is even a slight possibility of success. Tenacity and sheer will get you there. If you have a good business idea and offerings, customers will come eventually. For us, our lucky break was when we were featured on the Wall Street Journal. Customers started pouring in and business quickly picked up for us then.
4. It has been six years since Muchachos first opened. What are some of the lessons you've learned so far?
Back then, I did not have enough experience to make an educated guess as to whether the business would succeed. My business partner and friend, Elson Lee and I slowly gained more experience along the way and we're now much better at running a business and anticipating obstacles that may come our way. We have also fit into our current roles over the years. I'm primarily in charge of the strategic side of the business while Elson focuses on the operational matters.
5. How do you feel about your new home at Frasers Tower?
We've made so many wonderful memories at Keong Saik Road, but we decided to jump on the opportunity to move into the Central Business District when our lease was ending. This was around the same time Frasers Tower was developing, and we knew it was going to be the right place for us. Being right in the heart of the CBD, the area is vibrant with a variety of hawker centres and cafes, and restaurants, making it a cool but lively neighbourhood for us to be a part of.
6. Tell us about the working culture at Muchachos
We're a family here at Muchachos! We wanted to create a fun, and enjoyable place for our staff to work at, where we have each other's backs and look out for one another. At the same time, individually, everyone is responsible enough to uphold the quality of food served and service standards we expect from the team.