Be Nimble
This means more now than it ever has before. What we thought 2020 would have in store for the travel industry has now significantly changed. The best leadership teams in our industry and those like it, are using this time to take stock of where they are now, act on what needs to be done in the immediate short term and use this downtime to plan for the future. 
Celebrate the Small Wins
It is easy to become consumed with the day to day goings-on of the business and forget to step back and recognise when you and the team are doing a really great job. And as this situation has shown us, no one can predict when things are going to becoming challenging. Across the business, the staff at our properties are showing how much they care through small yet meaningful initiatives. Our properties continue to celebrate staff birthdays, births, and share thank you notes from guests during these tough times. Our staff have also been giving our guests farewell token when they check out, especially after serving their stay home notice and our chefs even whipped up special meals for them. This is exactly what we need to keep the positivity and energy flowing through the business.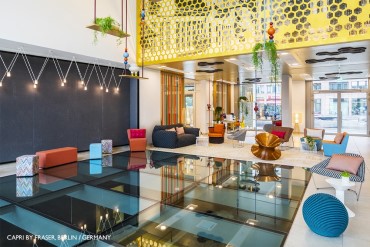 Admit when you don't know the answer
The travel trends we expected to see for 2020 included slow travel (taking your time to get to a destination), microcations (mini-breaks throughout the year) and bleisure (business trips with a couple of leisure days tagged on the beginning or end). Right now, we are not sure what 2020 will now hold in terms of travel. We can see that some of the countries we have properties in, for example, China, Australia and Germany are just starting to move past the worst of the outbreak and grow stronger, and we hope that the rest of the world will follow. We expect that domestic travel will increase, and that business travel will change. However, no one can predict how long it will be until the virus is contained and when we start to see these changes.
Live Out the Values of Your Company
Frasers Hospitality's core values are Progressive; Collaborative; Real; and Respectful. We strive to embed these in the culture and everyday lives of our staff, but sometimes we forget at the moment to think back to our values and make sure they align with our actions. Challenging situations are exactly the time to revisit values. As we started to predict the Covid-19 was going to extend beyond China back in February, we quickly made the decisions to update our global cancellation policy and operating protocols as we knew that we had to implement it with the utmost flexibility to be real and care for our guests, and also to respect the situation at hand.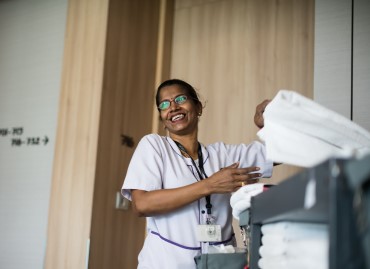 Recognise Teamwork
Particularly during a challenging time, it can be hard to remember and recognise the amazing staff that you have. Our staff on the ground are facing challenges day-in-day-out including our housekeepers, front-of-house staff and security personnel but they are going above and beyond to show they care. When we first learnt of possible suspected cases at our properties in Singapore, our housekeeping staff put themselves at risk without hesitation. Not only did they attend to these suspected guests, but they also took precautionary measures to protect themselves and fellow colleagues. Meanwhile, our team at Fraser Suites Sukhumvit Bangkok came together to support the local community by making masks with clean linen. These masks were distributed for free to Tuk Tuk drivers in Bangkok (watch the video here). Over in Australia, our chefs go beyond their duty to prepare special and nutritious bento meals for our guests and staff. These members of the team are the assets of our business, and we recognise and celebrate the incredible efforts they are currently making to keep our properties safe for guests. Morale is so important during these times and sharing the reviews which show the outstanding dedication of team members is a great way of building it.