Doing our part during COVID-19

Nothing matters more than the health, well-being and safety of the communities we operate in, especially during these difficult times. At Frasers Property, we continue to reach out to the community and provide ongoing relief efforts as best as we can and in various ways. Our initiatives range from sponsoring personal protective equipment, organising blood donation and food drives, to contributing donations to help migrant workers, medical personnel and vulnerable groups.

Collaborating with Singapore Red Cross and Thai Red Cross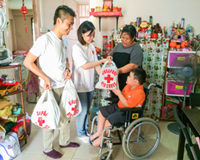 We've supported the Singapore Red Cross Youth's on-going 'disaster risk reduction' programme to help enhance COVID-19 precautionary measures for vulnerable communities specifically the isolated elderly, those with physical disabilities, disadvantaged families, and low-income patients with transportation needs. In addition, our contribution helped its emergency response aid for its COVID-19 relief operations in China.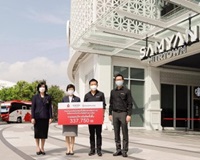 We have been collaborating with Singapore Red Cross and Thai Red Cross to help mobilise blood donation drives and the set-up of mobile stations with staff and tenants at select commercial properties in Singapore and Thailand respectively. As restrictions slowly ease across various cities, the Red Cross societies can count on us to continue playing a part.
Keeping you safe with personal protective equipment and contactless thermal devices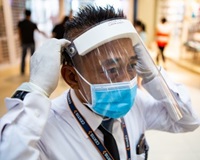 Frasers Property Retail was among the first three Singapore-based companies to each commit US$50,000 upfront to purchase the initial shipments of masks from Razer's manufacturing line. The masks have been distributed to over 1,300 tenants across 14 malls and all frontline staff at Frasers Property Retail. In addition, face shields were distributed to our tenants, frontline staff, and vendors. Our retail team also provided complimentary space for the placement of Razer's mask vending machines within its malls, which are conveniently located close to transportation nodes. Read more here.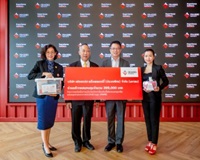 Frasers Property Thailand's donation to Thai Subconstructing Promotion Association, went towards producing personal protective equipment for medical personnel who are treating COVID-19 patients. These masks have been distributed to local hospitals. Read more here.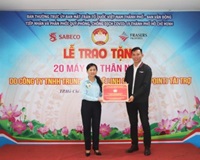 Frasers Property Vietnam, through Me Linh Point Ltd – a joint venture with Sabeco Group – has donated thermal cameras worth over VN$1 billion to the Vietnam Fatherland Front Central Committee of Ho Chi Minh City. These thermal cameras are expected to be deployed at high-traffic areas such as hospitals, medical centres, television stations, museums, dormitories of universities, and more. Read more here. 
Handmaking masks from the heart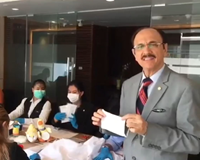 In Thailand, the team at Fraser Suites Sukhumvit helped overcome shortage of masks in the community in March this year by making about 30 masks daily using clean linen. The team then distributed the washable and reusable masks to Tuk Tuk drivers who ferried guests at the serviced residence or those parked outside the property.
Supporting migrant workers in the built environment and healthcare workers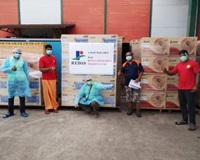 To extend our appreciation and care for migrant workers in the construction sector as well as healthcare workers in Singapore, we made a contribution to REDAS Solidarity Project Fund. The fund went towards essential care pack items such as sanitisers, soaps and dental kits which were distributed to workers in dormitories and other initiatives. 
Running, walking and spinning to fund meals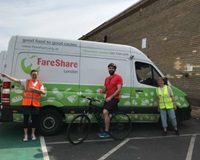 Frasers Property UK doubled its target for its 'Do something good in May' campaign to raise over £20,000 for FareShare – a charity that provides meals to vulnerable people across the country. Their fund-raising efforts stand to benefit 8,000 beneficiaries. To reach its ambitious target, our team in the United Kingdom collectively covered the distance between all its offices and assets by setting themselves personal challenges to run, walk or cycle, clocking over 2,500 kilometres. The team also came up with baking, jigsaw, and daily yoga challenges to help achieve their goal. Read more here.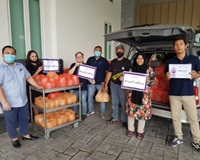 Elsewhere in Malaysia, our hospitality team behind Capri by Fraser Johor Bahru embarked on a food drive with the support of their staff and fellow hoteliers. The event successfully delivered over 800 free meals to families affected by flash floods as well as the needy in care centres, old folks' homes, orphanages, and other non-governmental organisations.
Promoting reading among children in rural regions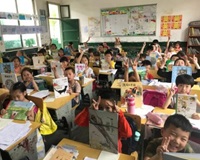 Our team from Frasers Property China is working with Stars Youth Development Center (STARS), a non-profit educational organisation based in Guangzhou, to improve the reading quality of children living in rural regions.
To hit the donation target of 1,300 books, Frasers Property China purchased 500 new books and has called for book donations from its employees and serviced residence guests of Frasers Hospitality till August. The books will go to the libraries of two rural schools in Anhui and Guangdong provinces, benefitting about 800 primary school students.