What matters for our Customers and Partners
The true frontline is at our malls, our hotels and serviced residences, our offices and business parks, and industrial and logistics facilities. At Frasers Property, the role we play in combating this pandemic and supporting our community's response to it, is by ensuring whatever we can to help with preventive measures. Ultimately, this will relieve some stress to the healthcare systems and the healthcare workers who are selflessly fighting to save lives.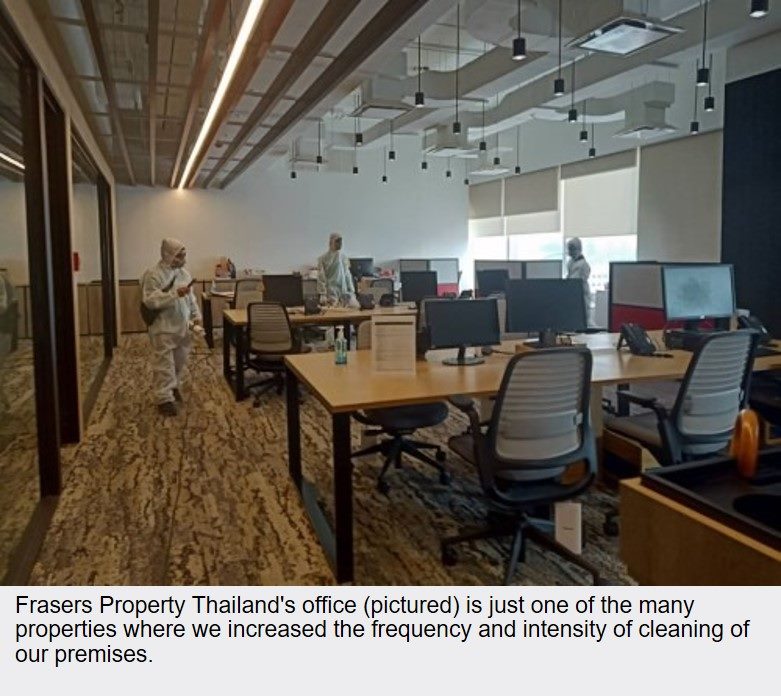 Across our properties, we have increased the frequency and intensity of cleaning at our properties and have safe distancing and personal hygiene measures for our customers and tenants. At all properties, we have also added appropriate safety measures including temperature scanning.
We recognise the importance of acting as a multi-national company while executing at the local level. We don't take a one-size fits all approach, but a customised approach specific to the evolving dynamics at the market level, depending on various factors. We are structured to ensure the continuity of our business operations and plans are in place to swiftly respond to any incidence of COVID-19 at our offices, sites and assets and will always, act upon the guidance of relevant local authorities.
In response to orders by several governments to enforce strict safe distancing and activity shutdown, we have temporarily closed all the food and beverage outlets of our hotels in Sydney and Melbourne and will progressively close our hospitality properties in the UK on a temporary basis. The same temporary closure is taking place with our hotels in Germany. In Singapore, as of this week, malls remain open only for essential services, and restaurants are limited to only takeaways or deliveries.