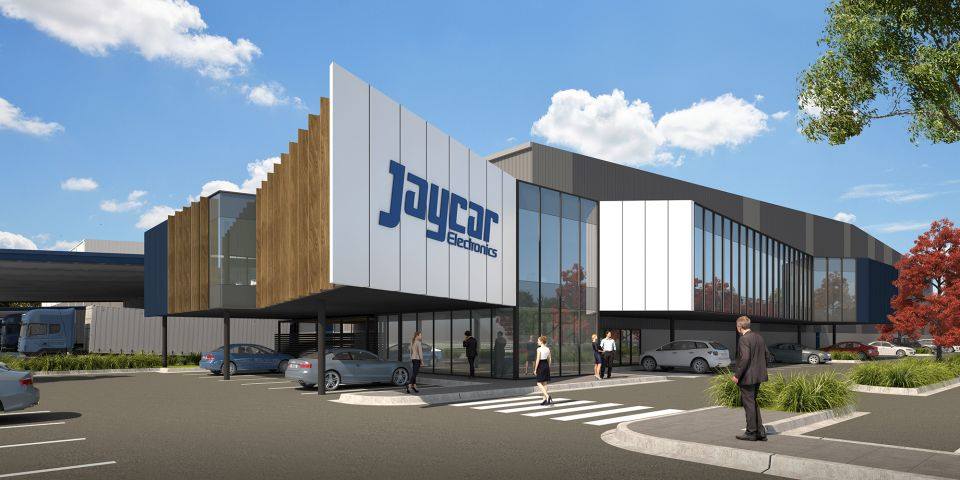 SYDNEY, 26 FEBRUARY 2019

Frasers Property Australia (Frasers Property) has sold a significant land and build package with an end value of circa $80 million including automation to retail company Jaycar Electronics Group (Jaycar). 

The 3.5 hectare land parcel is located on Eastern Creek Drive in Frasers Property's Eastern Creek Business Park. Frasers Property will construct a 21,595 sqm state-of-the-art automated warehouse and distribution centre on the site, comprising 19,928 sqm facility (including an 8,000 sqm high bay pallet store), 1,000 sqm office and 567 sqm assembly and trade pick-up area. 

Ian Barter, General Manager Commercial & Industrial Northern Region for Frasers Property Australia, comments, "Jaycar's new cutting-edge facility will be our first automated high bay project, incorporating the very latest robotics technology. This warehouse further demonstrates our ongoing commitment to innovation and leadership within the property industry. It will be an industry game changer that will help shape future industrial facilities. 

"Over the past two years, we have discussed automated high bay warehouse options with several customers. There is increased awareness, interest in and commitment to developing these projects due to the cost of land in Western Sydney and the business efficiencies they create. Based on several recently committed similar projects in Greater Western Sydney, we expect demand to grow for these types of warehouses."

Graeme Faulkner, Chief Operating Officer for Jaycar Electronics Group said, "After an exhaustive search for suitable development partners, we chose Frasers Property as preferred developers. They demonstrated a clear understanding of the project's complexities as well as being able to provide a site at Eastern Creek that offered excellent access to both the M4 and M7 motorways. This location combined with a state-of-the-art logistics fit-out from partner Swisslog will be a game changer in terms of our cost to distribute to shops and customers.  

"This strategic investment positions the group to leverage growth in online retail by enabling the lowest possible cost to fulfil customer requests in an increasingly competitive space.  The functional design is an Australian first which incorporates both a 20,000 pallet capacity multi-deep automated pallet store as well as a fully automated 24,000 tote and carton goods to person picking system. 

The facility also has the capacity to accommodate phase two's expansion plans." 
Project Strategy Pty Ltd and DCL Solutions Pty Ltd are handling the design brief and project management for the transition from Jaycar's existing Rydalmere premises to their new facility at Eastern Creek. 

Features of the warehouse include an ESFR sprinkler system, in-rack sprinklers in the pallet and tote stores; the pallet store has a 29 tonne post load floor slab, 33 metre wide super awning, battery charging area and dangerous goods store. The high bay pallet store has a 25.5 metre roof height with the balance of the warehouse roof height at 13.7 metres. The project will be built to achieve a 5 Star Green Star certified rating from the Green Building Council of Australia.

Sharabastee Mallik, Director, Research & Consultancy, Savills Australia comments, "Sales in Eastern Creek reflect more institutional investors acquiring land, allowing them to take advantage of future growth. In 2017, we saw close to 90,000 square metres of land acquisitions in Eastern Creek, with a further 315,000 square metres of land being acquired in 2018. 

"Overall, we witnessed almost $200 million spent on Eastern Creek industrial assets alone in 2018. Further opportunities remain for future development, with several land banks that are yet to be sold."

She added, "Looking at rents in Sydney's Western Precinct, Savills Research recorded a range from $120 to $130 per square metre across prime grade assets, reflecting an annual growth rate of 6.5 per cent over 2018."

Eastern Creek Business Park, Stage 5 is situated approximately 40 kilometres west of the Sydney CBD and offers easy access to the M4 Western Motorway and Westlink M7. 
Jaycar will move into their new facility in 2020.

Neighbouring companies in Eastern Creek Business Park include Kmart, Kuehne + Nagel, Rhino-Rack, FDM, Best & Less, Fujitsu, Silk, Richo, Lite & Easy and DHL.

Darren Curry and Ray Trimboli from Savills Australia brokered the deal.