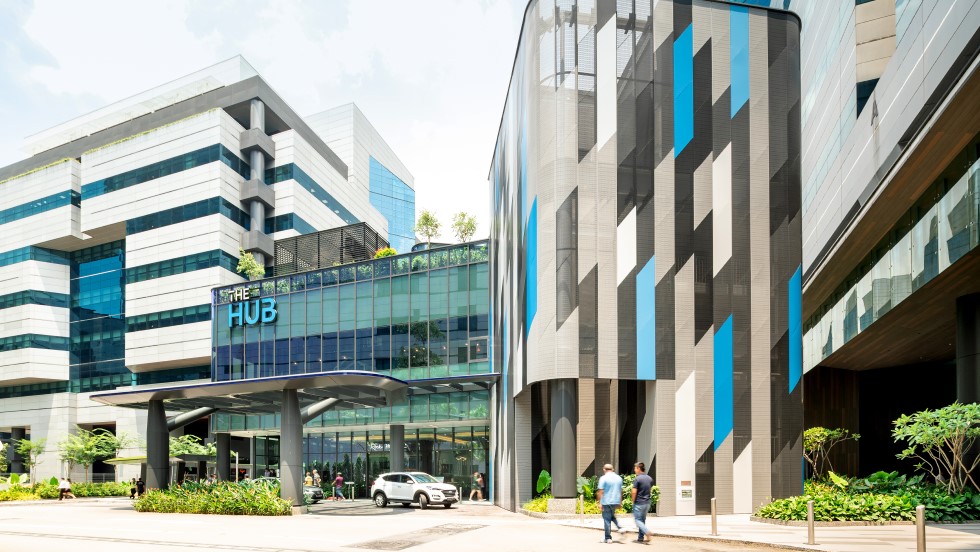 New name is aligned to the broadened investment mandate of the Enlarged REIT1 comprising logistics, industrial, commercial and business park properties
Transformational merger has created a diversified portfolio valued at S$5.9 billion2
SINGAPORE, 29 APRIL 2020
Following the completion of the Merger between FLT and FCOT, FLT has today been renamed Frasers Logistics & Commercial Trust ("FLCT"), in line with its broadened investment mandate that comprises logistics, industrial, commercial and business park properties. Frasers Logistics & Industrial Asset Management Pte. Ltd., as the manager of the Enlarged REIT1 ("REIT Manager"), has also been renamed Frasers Logistics & Commercial Asset Management Pte. Ltd. with effect from 28 April 2020.
Starting from 9.00am on 4 May 2020, FLCT's trading name on the Singapore Exchange Securities Trading Limited ("SGX-ST") will be "Frasers L&C Tr", with the stock code remaining unchanged as "BUOU".
The latest development follows the announcement on 15 April 2020 that the trust scheme of arrangement in relation to the Merger has become effective and binding in accordance with its terms. Unitholders of FLT ("FLT Unitholders") and unitholders of FCOT ("FCOT Unitholders") had earlier given their approvals at their respective meetings held on 11 March 2020. FCOT will be delisted from the SGX-ST today with effect from 9.00am.
Mr. Ho Hon Cheong, Chairman and Independent Non-Executive Director of FLCT's Manager, said, "We would like to thank all FLT Unitholders for their strong support of the Merger and the Asset Acquisition. The two transactions have created a scaled-up platform with enhanced portfolio quality and diversification. With an expanded geographical footprint strategically diversified across the logistics and commercial property sectors, FLCT is well-positioned to deliver sustainable value to all unitholders."
Mr. Bobby Chin, Chairman and Independent Non-Executive Director of FCOT's Manager, said, "The Board and management would like to extend our appreciation to all FCOT Unitholders, business partners and other stakeholders for their enduring support over the years. The Merger received strong support and we are glad that moving forward, FCOT will be part of a larger and more diversified REIT that will be more resilient and better positioned to navigate through potential challenges, which is a pertinent point given the COVID-19 situation."
Mr. Robert Wallace, Chief Executive Officer of FLCT's Manager, said, "The Merger brings together the strengths and capabilities of two established players in the logistics, industrial and commercial spaces. With FLCT's expanded management capabilities and network, we are well-positioned to offer our customers a wider suite of real estate tenancy solutions across asset classes and geographies. It also equips us with increased flexibility to pursue a broader range of growth opportunities. Moving forward, we will continue our efforts to create long-term value for all of our unitholders."
FLCT holds a diversified portfolio of logistics, industrial, office, business park and commercial assets worth approximately S$5.9 billion2 across Asia Pacific, Europe and the United Kingdom. The enlarged portfolio will benefit from enhanced quality and diversification, with no single sector and geography representing more than 60% and 50% of the portfolio respectively2.
1 The enlarged Frasers Logistics & Industrial Trust ("FLT") following the completion of the merger of FLT and Frasers Commercial Trust ("FCOT" and the merger, the "Merger") and subject to completion of the acquisition of a 50% interest in Farnborough Business Park ("FBP") from a wholly-owned subsidiary of Frasers Property Limited (the "Asset Acquisition"), the enlarged REIT will hold a 100% interest in FBP.
2 Based on book value of the Enlarged REIT as at 31 December 2019 and includes 100% interest in FBP, which is based on the Agreed Property Value at an exchange rate of £1 : S$1.7841.