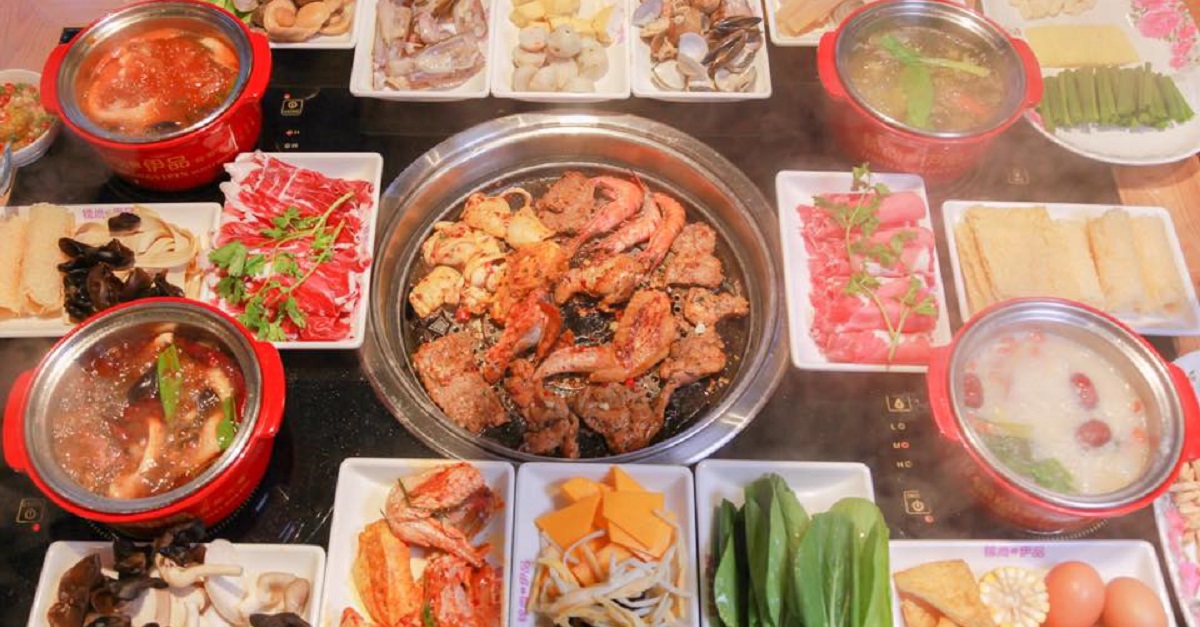 Photo credit: Jin Shang Yi Pin Buffet Hot 
Hot Pot restaurants are hugely popular among diners in Singapore and each of them is unique in its own way. This month, we paid a visit to Jin Shang Yi Pin Buffet Hot Pot located at Eastpoint Mall (#01-20).  
Jin Shang Yi Pin Buffet Hot Pot prides itself on being the first halal-certified Chinese hot pot buffet restaurant in Singapore. Its Muslim-Chinese owners hail from Xinjiang in China. With such a strong connection to one of China's main cultural melting pots (no pun intended), you can be sure of the restaurant's authenticity and quality. 

Having recently marked its one-year anniversary, we bring you the low-down on what the restaurant has to offer! 


How it all began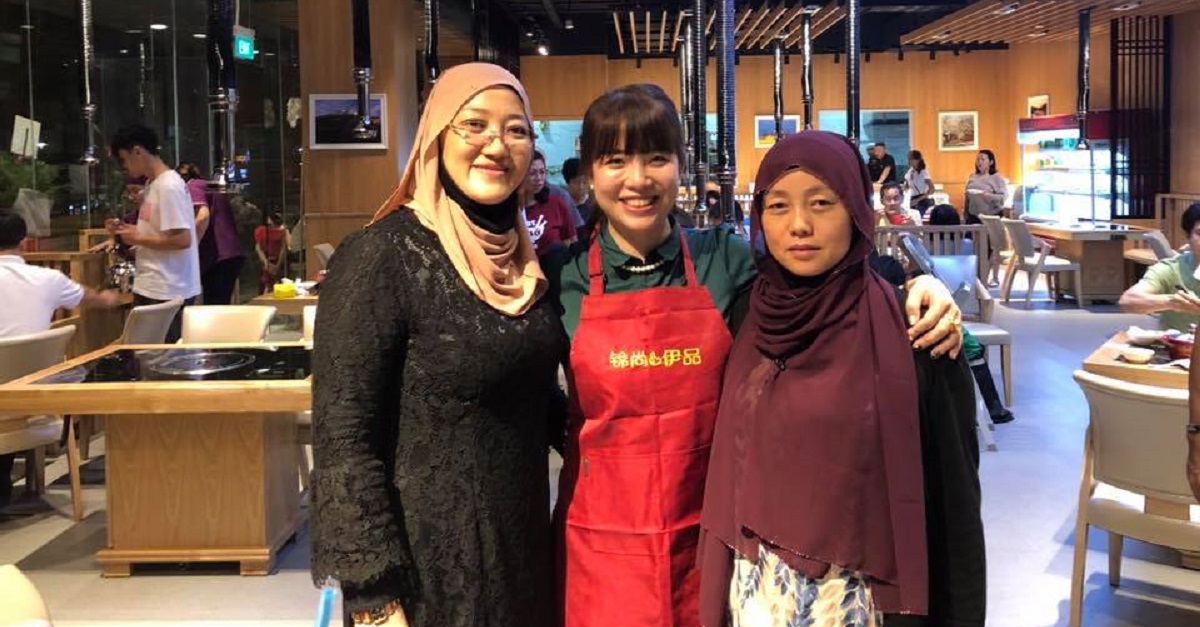 Mdm Aishah (left) with her staff and customer.
Photo credit: Jin Shang Yi Pin Buffet Hotpot 
Originating from Xinjiang, China, Mdm Aishah and her husband have lived in Singapore since 2012. 

"Back in China, we used to enjoy hot pot every weekend with our friends and family. Maybe it was my love for hot pot, or the atmosphere of gathering together for a meal that set in motion this idea to open a hot pot restaurant in Singapore." 


"When I first started living in Singapore, I realised that the halal Chinese food we have here is slightly different from the one in China. I wanted to share the taste of authentic Chinese cuisine with our Muslim friends, hence my dream to go into the F&B business."


All about the food

A year on, the 80-seater restaurant is a popular spot for friends and families to gather and dine. 

The meal at Jin Shang Yi Pin Buffet Hot Pot starts from $35 for adults and $22 for children, with an additional $4.90 if you opt for the BBQ skillet to grill your meat. 

Their menu consists of an all-you-can-eat buffet that has various options such as marinated beef, mutton and chicken. On top of that, they also have fresh seafood along with an entire section dedicated to vegetables and other ingredients like fresh tofu and beancurd skin.

Their hot pot buffets are served in little individual mini pots for everyone to choose his or her own preferred soup base! This is convenient in cases where some people may have dietary limitations or simply want to try different soups.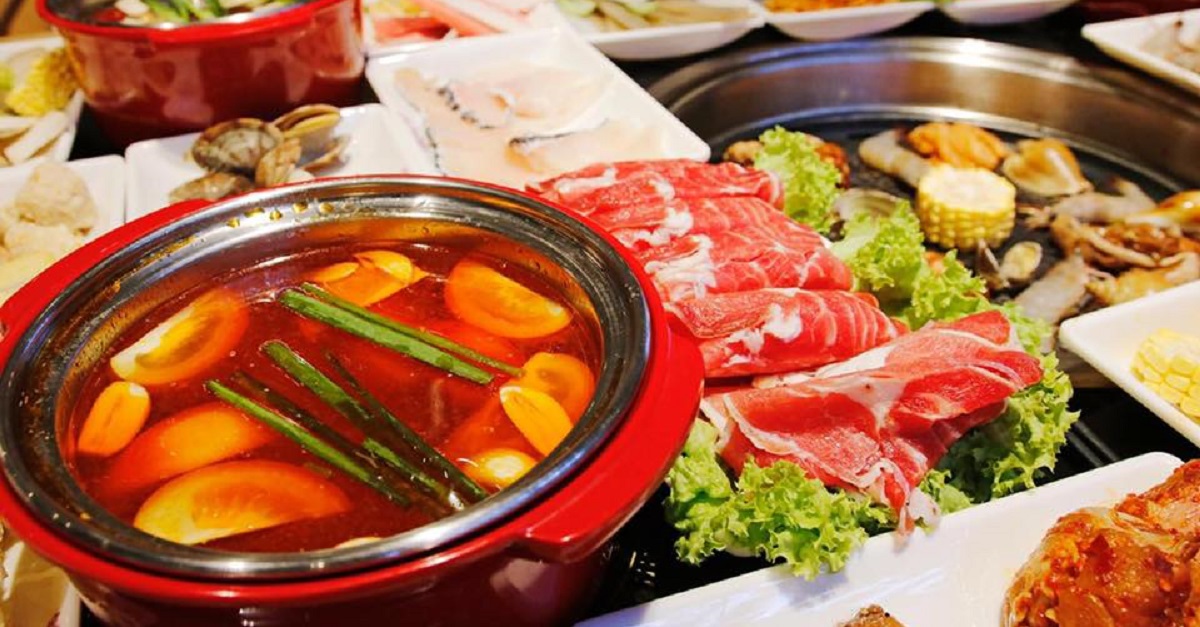 The large spread of fresh meat, fresh seafood and soup options makes Jin Shang Yi Pin Buffet Hot Pot perfect for gatherings.
Photo credit: Jin Shang Yi Pin Buffet Hot Pot 
The restaurant offers five homemade soup bases – pickled vegetable soup, herbal soup, mushroom soup, tomato soup and spicy soup.

"The dipping sauce is an integral part of any hot pot experience, so we have quite a range of sauces and oils, such as spicy herb sauce, to cater to all kinds of taste buds. The sesame sauce is the go-to sauce for many of our customers as it balances out the salty and spicy hot pot broth with its mild and sweet flavour," said Mdm Aishah. 

There is also a sauce bar with a variety of ingredients for customers to mix and match to create their own sauce. If it's your first time there, don't fret as there are helpful suggestions to guide you on the more popular combinations.

Don't forget to complete your meal with some fruits, cakes, jellies and ice-cream at the dessert counter! 


What you should try

The restaurant is open daily from 11am to 3pm and again from 4pm to 10pm, with a standard 90-minute time limit for customers to enjoy their food. While this limit is usually not enforced, Mdm Aishah advises customers to be considerate when there are others waiting in-line outside as it can get busy during the evenings and on the weekends.

To aid with your selection of choices when you are there, here's what Mdm Aishah has to say about what you should try! 

"Hot pot is a simple concept, but it is elevated by the type of ingredients that we use. The ingredients that we use are as fresh as they get – wild mushrooms and herbs which are meant to nourish the body. 

As for what to try, spicy food lovers must try our homemade spicy soup base which is prepared with peppercorn, chilli peppers and various spices that are simmered in oil. For those with low or little tolerance for spicy food, I would suggest trying our nourishing herbal soup or mushroom soup bases," said Mdm Aishah.

The next time you're in the mood for a warm and comforting meal, drop by Eastpoint Mall with your friends and family for a taste of their hot pot!