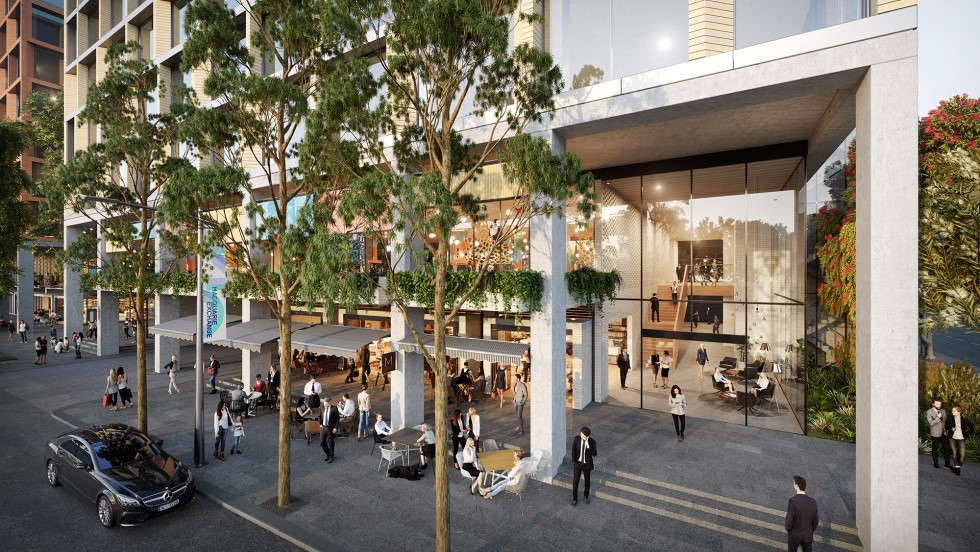 SYDNEY, 18 SEPTEMBER 2020
With construction of the A$750 million1 Macquarie Exchange to commence soon, Frasers Property Industrial and Winten Property Group have announced the sale of the building and land known as MQX4 to Ascendas Reit under a Development Management Agreement for an initial investment price of A$167.2 million.
To be developed on a 3,308 sqm freehold site, MQX4, a nine-storey building, will comprise 17,753 sqm of lettable office space over eight levels, 1,631 sqm of ground floor retail space and 204 car spaces. It will also include rooftop office and terrace spaces, outdoor terraces fronting the streets and interconnecting floors via winter gardens overlooking the precinct's central park.
MQX4 is one of four new buildings that will form the dynamic Macquarie Exchange, Australia's first Community Business District and a new mixed-use destination occupying prime position at the Metro station entrance.
Macquarie Exchange is set to transform a 15,620 sqm site into 83,368 sqm of space (gross floor area) across four innovative buildings, connected by intimate laneways and collaboration spaces, all integrated with a central community park.
Macquarie Exchange is expected to generate approximately 600 jobs during construction. On completion, over 7,000 employees will work in the new employment hub. Designed by renowned architects Bates Smart, MQX4 at Macquarie Exchange is targeting a 6 Star Green Star Design & As Built rating and a 5.5 Star NABERS Energy rating. Additionally, a WELL Silver and Core rating and WIRED certification are being targeted. The project will provide 100 per cent carbon neutral energy to all buildings within Macquarie Exchange.
Reini Otter, Chief Executive Officer of Frasers Property Industrial, says the sale of MQX4 demonstrates the high-quality design, sustainability features and important role Macquarie Exchange will play in the future of the Macquarie Park employment precinct.
"Macquarie Exchange will reinvigorate Macquarie Park, enabling the precinct to fulfil its potential as a critical employment and innovation hub for the future, taking advantage of new and existing infrastructure. The sale of MQX4 to Ascendas Reit is in line with our capital management programme and shows the strength of market demand for what's being created," Mr Otter says.
"Central to the Community Business District premise is the creation of an employment, retail and amenity rich destination operating as a digitally-driven ecosystem. Macquarie Exchange will facilitate collaboration in an activated entertainment precinct, seamlessly connecting modern work environments with laneway retail experiences, the station plaza and the open green space of the central park."
"More innovation jobs are coming to Macquarie Park. Major employers like the pharmaceuticals industry have growth plans in the area. Macquarie Exchange will be the most important, sought-after location in the context of Macquarie Park's exciting future," Mr Otter says.
Stuart Vaughan, Development Director at Winten Property Group, says with work scheduled to commence soon, Macquarie Exchange is ideally timed to meet the changing needs of a more mobile and potentially decentralised workforce.
"Infrastructure upgrades are improving connectivity to Macquarie Park and the area's gentrification is enhancing the amenity in the area. Macquarie Exchange complements and optimises this investment by providing new employment and economic opportunities in a place like no other," Mr Vaughan says.
"More than just modern, sustainable workspaces, Macquarie Exchange delivers significant community benefits and public assets including a new publicly accessible park with over 2,200 sqm of green space, gym, childcare centre and Metro station amenity, as well as new retail and dining options to meet the needs of new workers and more visitors," he adds.
The completion of the land sale to Ascendas Reit is expected to occur in late 2020 and the building is scheduled for completion in mid-2022. The joint venture between Frasers Property Industrial and Winten Property Group will provide a three-year rental guarantee from completion of the office building in the event of vacancy, with the provision for a capital adjustment dependent on securing leasing outcomes.
Situated on Lane Cove Road and Waterloo Road, Macquarie Exchange is in one of Sydney's best-connected locations with easy access to major arterials including the M2, M4, M7 and Lane Cove Tunnel. The new Sydney Metro North West operates trains every four minutes in peak hour to the CBD. The site currently accommodates a helicopter pad on site with only a few buildings in Sydney offering this advantage. Bus stops adjoin the site with access to 30 different routes.
The leasing campaign for Macquarie Exchange is being coordinated by Jason Wright and Chris Bailey from GJS Property and Denys Bizinger and Francesco Princi from JLL. For further information visit: mqx.com.au.
1. Estimated completed development value for Macquarie Exchange as at January 2020.