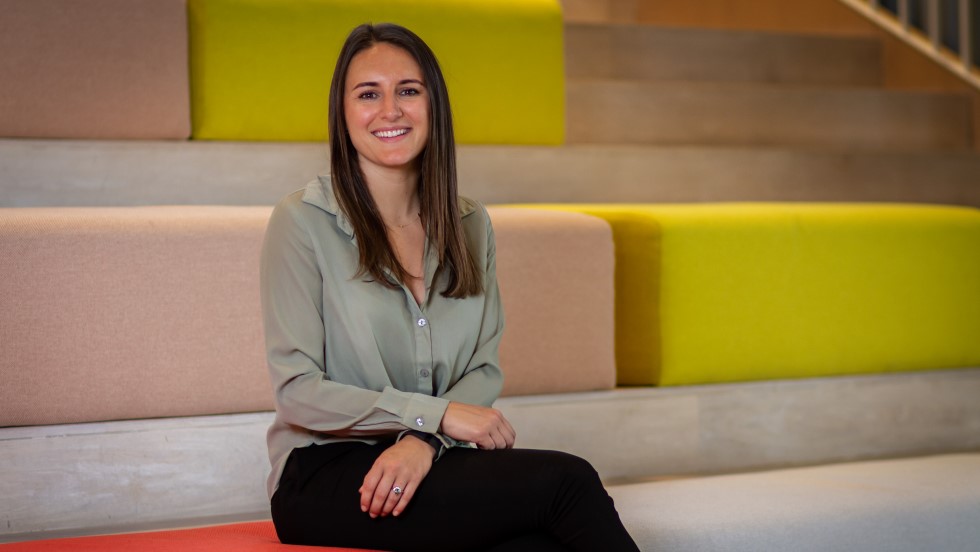 SYDNEY, 2 OCTOBER 2019
There's plenty happening at Frasers Property Australia's Fairwater community at Blacktown over the coming months as a new Community Development Manager takes the reins to help strengthen neighbourhood ties.
Sarah Melody is co-ordinating a full calendar of community events for more than 1,300 residents who now call Fairwater home.
This October, Fairwater will have a Community Herb Planting Day, a Resilient Blacktown Picnic Day, and a Halloween Trick or Treat & After Party. These follow the success of events such as the much-loved Foodies in July dinner.
Sarah says she's excited to help Fairwater residents connect with each other and to create their own community initiatives.
"Social relationships and interaction have always fascinated me," Sarah says. "Connection and living a healthy and active lifestyle are key drivers of happiness."
"Fairwater is a thriving community where residents get involved in running community events. I look forward to building on these events, so residents continue to connect with each other and stay healthy and happy."
Sarah recently hosted her first welcome barbecue. Around 60 old and new residents attended.
"What better way to meet your new neighbours than over a friendly neighbourhood barbecue?" Sarah says.
"The residents joined in the fun with a jumping castle and giant games to play. We had information about the great events and programs currently running in the Fairwater community so they could plan their next catch-up."
The events at Fairwater are expected to be hugely popular with residents this October, starting with a Community Herb Planting Day on Sunday October 13.
"We're encouraging residents to come and get their hands dirty while planting the herb seedlings for the new community herb garden, the kids can join in on the fun with a pot painting and seed planting workshop," Sarah says.
Fairwater is partnering with Blacktown City Council to run a Resilient Blacktown Picnic Day on Saturday, October 19 from 10am to 1pm. This event follows the success of a recent Community Safety Awareness Workshop at Fairwater.
For kids, the highlight of the October events calendar is Halloween. Expect many scary ghosts and ghouls to Trick or Treat at Fairwater October 31. Fairwater will provide maps of homes that have registered to take part in the trick or treat and host the official Halloween After Party.
"Halloween is one of the most anticipated nights of the year here at Fairwater," Sarah says.
"After a walk around our neighbours' homes for some trick or treating, make sure you join us at the Haunted House Halloween After Party between 6pm and 7.30pm in front of the Display Homes on Greenbank Drive, where there will be prizes awarded for best Halloween costumes."
Fairwater is an active community. Sarah says she often sees residents chatting with their neighbours, riding a bike with friends and joining in the free Live Life Get Active fitness classes held in Fairwater Park each weekday morning. The onsite Two by Four Café is always a hive of activity and serves as a great meeting place for residents and visitors alike.
Ray Baksmati, Development Director, Frasers Property Australia says building a community such as Fairwater takes much more than just bricks and mortar.
"A community is not just about buildings, it's about the people who live there, and the best way to foster a sense of belonging is to bring residents together. That's why we organise events for our residents to enjoy and support them as they plan their own events," Mr Baksmati says.
October Community Events at Fairwater
Find out more about October Community Events at Fairwater by visiting https://www.frasersproperty.com.au/nsw/fairwater/news-and-events/events. The events are free however registration is required.
Herb Garden Planting Day
Sunday 13 October 10am – 11.30am, behind Fairwater Sales and Display Centre.
Join the Herb Garden Committee as we plant the new Community Herb Garden at Fairwater. There will be pot painting workshop for the kids to enjoy. Make sure you come in clothes you don't mind getting a bit dirty.
Resilient Blacktown Picnic Day
Saturday 19 October 10am – 1pm, Fairwater Park.
Blacktown City Council and Frasers Property will run a Resilient Blacktown Picnic Day for the whole community to enjoy. Come and speak to local emergency services about how you can best prepare for an emergency. There will be games, live entertainment, a free sausage sizzle and much more.
Halloween Trick or Treat & After Party
Halloween Trick or Treat Thursday 31 October 5.30pm – 7pm, Fairwater Sales and Display Centre. Halloween After Party Thursday 31 October 6pm – 7.30pm, Display Homes Greenbank Drive.
Dress up in your Halloween outfit, hang up your scary decorations and join in the fun this Halloween at Fairwater. Trick or treaters will be coming around from 5.30pm to 7pm, and this year we will be giving out maps to the trick or treaters.
If you would like trick or treaters to come to your house, please register your address for the 'Trick or Treat' walking map and make sure you put some 'scary 'decorations up.
There is no need to register if you are doing the walk, just come by the Sales Centre to grab your map.
After the kids are done trick or treating, join us for the Fairwater Halloween After Party from 6pm in front of the Display Homes on Greenbank Drive. There will be a spooky disco, slime-making workshop and prizes for best Halloween costume.
Fairwater is a community on a 38.5 hectare former golf course which features more than nine hectares of open space including landscaped parks, lakes and ponds, boardwalks, walkways and pramways, a playground, water play area, learn-to-ride bike track and a future Central Park. It's just 1 kilometre from Blacktown CBD and railway station.
The Fairwater Sales and Display Centre is open 11am to 4pm, seven days a week. Visit www.fairwaterliving.com.au or call 13 38 38 for more information.
Contact Sarah Melody on 0437 820 558 via email fairwater.community@frasersproperty.com.au, or visit https://www.frasersproperty.com.au/nsw/fairwater/news-and-events/events for more information about Fairwater events.